As this is my first post, I hope you will be patient with me. It's probably not very evident, but this is a craft blog. I've got a bit carried away with the lovely Vintage backgrounds, but think they look rather cool.
I will use this first post to share some of my latest creations. I've always been more inclined towards the vintage style of crafting, perhaps a little shabby, but not to grungy!
I love rubber stamping and I'm building up an impossibly large stamp collection. There are so many gorgeous stamps out there. I adore crafty Individuals, Lost Coast Designs, Oxford Impressions ( I am impatiently awaiting a gorgeous set of their Soul Of The Rose stamps) Cherry pie and the new Graphic 45 stamps.
We have just returned from a lovely few days in Bath and I am itching to get back to crafting and am thinking of how to incorporate some Roman inspired ideas into a project. Me thinks I need to go searching for some lovely new stamps, Non Sequitur perhaps.
These are some mini pictures made from beer mats using 'Serena' (The Stampsmith) & some crafty Individual stamps, frames and images from their mini books.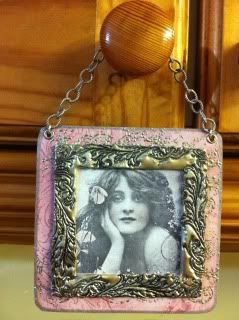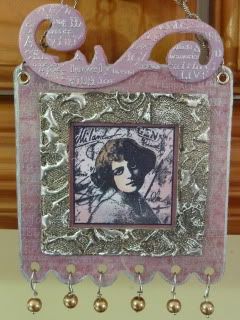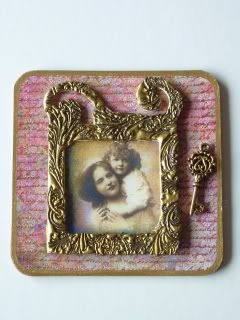 After a bit of research into the crackle paint effect using matt emulsion and PVA glue this is my attempt. I used a plain wooden box and some Graphic 45 stamps and Steampunk debutante papers. Not so keen on the colours I used now, but at least I can sand it down and redo it when I get bored with it.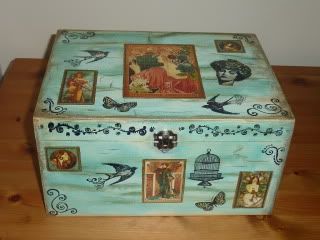 And finally a couple of pictures. The first was from an idea in the March issue of the Craftstamper from the Crafty Individual designer Jean Hardy.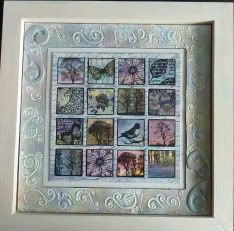 And this was using a gorgeous lost coast design stamp and some bits and bobs that came to hand! Well that's all for today. Now I feel in need of some nice relaxing internet craft shopping!